What flies do I bring to Patagonia?
As you can imagine I am often asked this question.  The answer varies from region to region and I will certainly let you know what flies are best given the location you are going to but there are a few flies that work everywhere you travel in Patagonia.  Most often, especially in Patagonia, it is not the fly but how you present it that matters.  Look at the photos below.  You will see that beetles are important.  The guides love them so much they even want to eat them themselves.  Here is a quick list.  Understand that one year it could be small sulfers that are best  and another year fly ants or tan caddis.  If I give you ALL the flies that are possible then the list gets long.  Bring these and the guides will round out the more specific ones needed for that given moment.  Bottom line for dry fly's: If it is made of foam and has rubber legs it will work.  For streamers: If it is tied with marabou and rubber legs it will work.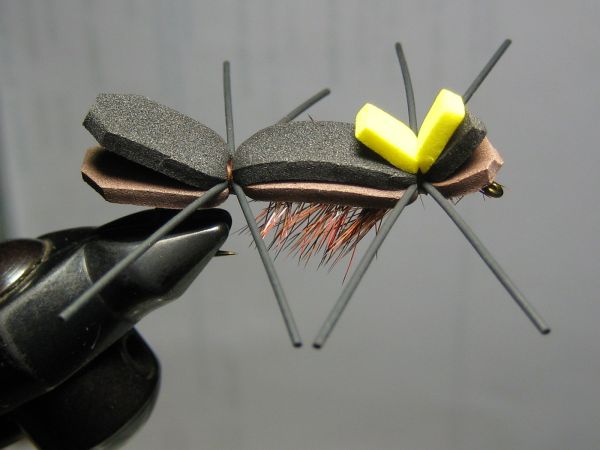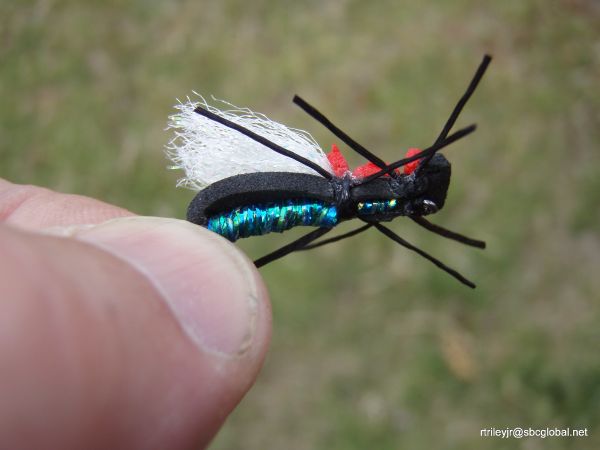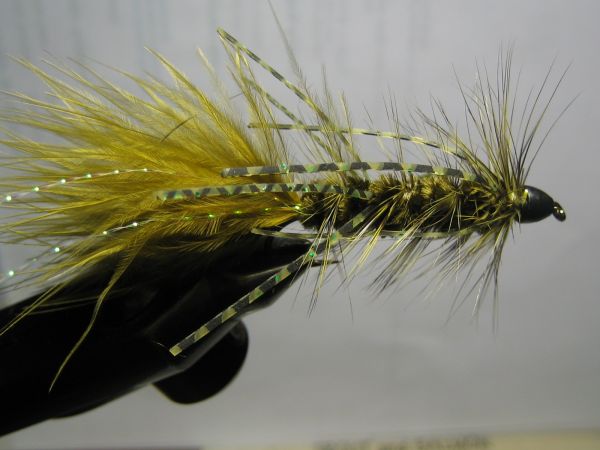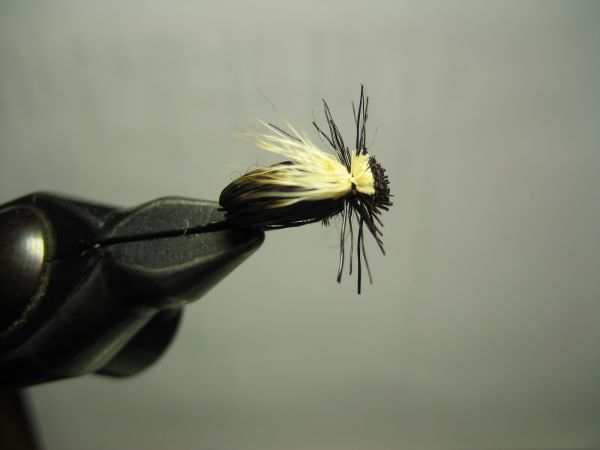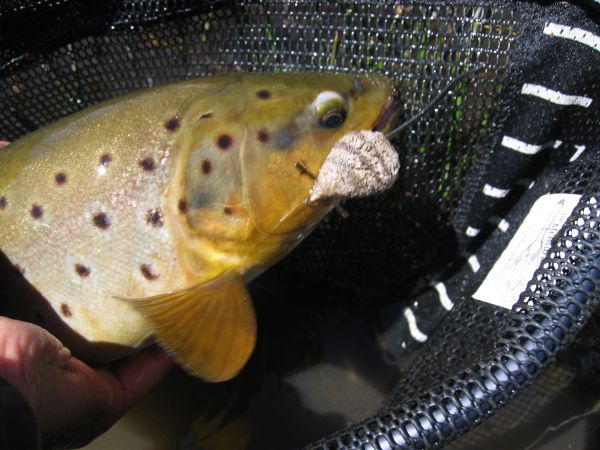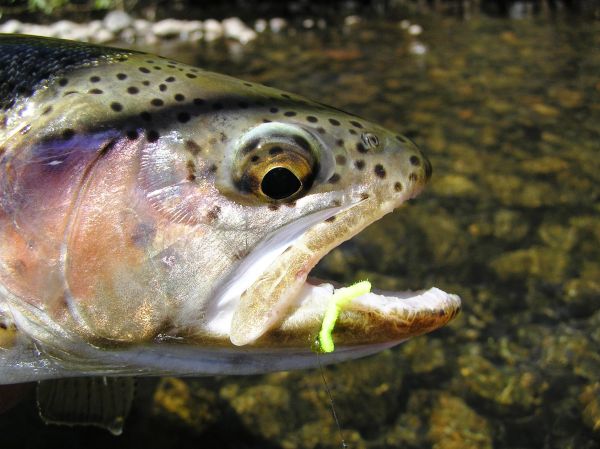 Fly List:
Fat Albert Beetles in tan & black.  Size 6-10
Chernobyl Ants in all sizes & colors (Remember it the presentation.  Do not get too caught up in specifics like size, color, style, etc...)  However, my favorite two are dark brown & black (size 6 & 8) and light tan and dark brown (size 8 & 10).
Hoppers.  Dave's, Parachute, Charlie Boys, etc....I like sizes 8-12.
Wooley Buggers in black & Olive.  Size 8 & 6.  I particularly like ones with rubber legs.
Parachute Adams in size 16 & 14.
Caddis patterns in size 16 & 14.
Bead Head PT, Hairs Ear & Prince nymphs in size 18-14.
A mouse pattern or two.
Other flies to consider:  Gypsy Kings, Home Invaders, Double Bunnies, small beetles, flying ants, & just about any trout pattern you like to fish with.
Rates & Sample Itinerary for the Coyhaique area: $4375.
Please inquire about group rates
Note:  Itineraries can be customized to meet your budget and desires. Depending on which lodging facility or combination of lodges is chosen and how many guided days you sign up for the total trip cost will vary.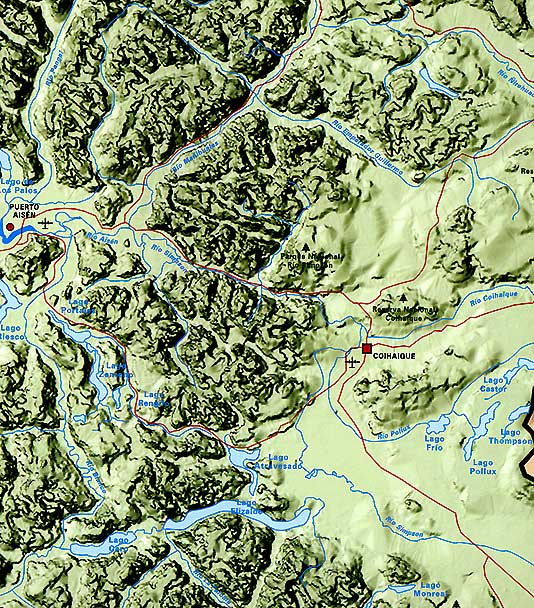 The following itinerary is based on double occupancy and is for the months of December - April which is high season for Chile.
Trip includes:

- 7 Nights lodging & Fishing License
- 6 Days for Guided Fishing via Drift Boat or on foot.
- All Meals including beer & wine at dinner.
- Transfers to & from the lodge.
Not included in this rate is airfare and tips for the guides & staff.
Day 1 (Sat) Evening hatch on the Simpson
Today is a travel day. After landing in Santiago, clearing customs, and transferring to the domestic airport, you will arrive in Balmaceda in the early afternoon. We are picked up at the airport and transferred to our lodge which is located right on the banks of the Rio Simpson. That afternoon and early evening you will have the chance to fish the evening hatch just upstream from your balcony which overlooks the river. Browns and rainbows rise freely to Pale Evening Duns and Caddis and without a doubt you should hook a few.
Dinner will be served at the lodge at any hour you request and possible entrees include succulent lamb, pampa fed beef, farm raised salmon, local organic chicken and the freshest local fruits and vegetables you've ever tasted. You'll fall asleep to the sounds of the river in a comfortable bed wondering what the next day will bring.
Day 2 (Sun) Float the middle section of the Simpson
After a sound sleep and a hot shower, you wake up refreshed and ready to go. You have a basic breakfast with tea, coffee, cereal and fruit and then meet your guide in front of the lodge. Today you will be floating down the spectacular Rio Simpson, casting dries to rising browns and rainbows in some of the larger pools. You'll also cast large streamers or attractor dries to the banks in hopes of landing a trophy trout in the 4 or 5 pound range. There are productive riffles everywhere and nymphs are deadly. The scenery is magnificent and so is the stream-side lunch that is served by your guide, complete with table, chairs, and if you would like, a fine bottle of Chilean wine.
After lunch you continue your float, and in some cases, fish till 9 or 10 in the evening. Satiated with all the trout you've caught, you head back to the lodge to share your stories with your friends over another fine, home-cooked meal at the lodge.
Day 3 (Mon) Walk & Wade the Nireguao
Today you'll fish what just might be the best hopper fishing in the world. It is just over an hour drive to the Nirequao (NeeTeeWow) which flows through lowland pampas. The river is about 70 feet across, easily waded and can be crossed in many places. It is known to have the largest population of brown trout in Chile and rumor has it that some are in excess of 10 pounds, although I have never seen any that large. Casting buoyant hoppers and Chernobyl style flies draws aggressive strikes from browns that range in size from 12-18 inches. It can be windy here so bring your 6 wt rod and mabye even a 7 wt.
Day 4 (Tues) Float the Manny
Yesterday on the Nirequao you hooked and landed several browns and so today it is time to float the mighty Manihuales (Manny) to try and catch a trophy brown or rainbow . The Manny is a big river with big fish. The banks are lined with fallen trees and well placed casts into the timber with big flies like Chernobyl ants, buggers and bunnies produce vicious takes that will make your heart stop. The river is lined with lush, tropical-like vegetation that is in stark contrast to the landscape of the Nireguao. You are beginning to see the diversity of the fishing and are overwhelmed at the angling potential that the area possesses. Once again you return to the lodge with a smile on your face and some more tales to tell your angling friends.
Day 5 (Weds) Float the lower section of the Simpson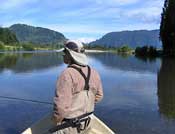 Today you choose to go back to the Simpson because it not only has large fish but the hatches are the most reliable of any river in Chile. Your guide puts his boat in on the lower river this time and the scenery that unfolds is very different from your first day on the Simpson. The river is larger here but there are still lots of opportunities to get out of the boat and wade productive riffles and runs. The trout aren't pushovers but are very willing to take if the cast is good and the fly is right. Rainbows, perhaps because they are transplants from California, rise freely to midges, small stones, mayflies and caddis flies right in the middle of the afternoon in the bright sunshine. Towards the end of your float the river changes again and begins to look more like the Manny with huge trees lining the banks. You switch over to large streamers and catch the biggest fish of the week...a beautiful, wild 6-pound brown. You take out at the confluence of the Manny and Simpson and head back to the lodge.
Day 6 (Thurs) Walk & Wade nearby Spring Creeks
You have had a great deal of success on all the rivers that you have fished and your skill level has improved, so today you decide to challenge yourself. Your guide leads you along a gentle spring creek with gin clear water which holds large, wary trout that hide along the undercut banks. Pin-point casting and stealth are required but when it all comes together the rewards are great. You rejoice with your guide, who is now one of your best buddies, after finally hooking a 4-pound brown on a hopper pattern. It's nice to be on foot after all the float fishing you have done and you like the peacefulness that these creeks bring with them. Another fine day in Chile!
Day 7 (Fri) Lake Fishing for Big Browns
This is your last day of guided fishing and you're not sure exactly where you want to fish because there is so much to choose from. The only thing you do know is that you are in love with Chile and that you plan to return, so you decide to sample new water. All week you have been hearing about the big fish that inhabit the nearby lakes and so you decide to give it a try. Your guide takes you around the lake in a small rowboat and you cast large, foam attractor flies (balloon animals) to huge cruising browns near the margins along the shore. The trout are huge and 4-5 pound browns are common, but you'll see fish much bigger than that. Your guide provides you with a delicious grilled lunch on your last day and you sip your wine realizing that life as a fly fisher doesn't get any better. Tonight there is something special for dinner; a traditional Chilean asado (barbeque).
Day 8 (Sat) Morning fishing on the Rio Simpson before departure
Today you pack your bags and the ending is bittersweet. You may want to fish the Simpson for a few hours in the morning, go shopping, or just take it easy before departing. After being transferred to Balmaceda (about 45 minutes) you head for home. Your flight from Santiago is in the evening and you land in the States on Sunday morning with some of the best memories of your fly fishing life.