Cinco Rios & Estancia del Zorro - Coyhaique, Chile
Cinco Rios is the best operation servicing the now very busy Coyhaique area of Chile.  I have been fishing this area for 20 years and have seen various lodges come and go and many new ones spring up in the last few years.  Some of them are excellent but I would argue that the combination of Cinco Rios and Estancia del Zorro are the best.  Why?  They employ some of the best guides, the accomadations are superb, the food / wine outstanding but above all they have access to a huge diversity of water.  Other lodges can boast the same is true for them but the big difference is that Cinco Rios has more private access, which even in Chile, means a lot.  In addition to their private access, they have a private spring creek that can only be fished by guests staying at Estancia del Zorro.
 "An outsider will not easily find discontent or unhappiness in Chile; he will find optimism, pride, humor and a very real joy in living," from Fisherman's Winter by Roderick Haig-Brown.
Sample Itinerary (7 nights lodging, 6 full days guided fishing) $6250
Day One (Sat):  Arrive into Balmaceda airport.  You will be met by the lodge owner Sebastian or one of this guides & transfered 45 min. to the lodge where a pisco sour awaits. You will most likely have some time to do a little fishing before dinner on the Rio Simpson which flows right past the lodge.
Day two: Today we head over to one of the most beautiful river valleys in the world to fioat the upper Rio Paloma.  The water is gin clear, the large browns looking up for beetles, and sight fishing always a good possibility.  Wading some of the many channels is fun and rewarding as the trout are often on the prawl. It is a great mix of wading and floating.  Lunch, as usual, is served via table, chairs, table cloth and a good bottle of red wine.
 Day Three:  Today you will be jet boating up the Paloma into Lago Desierto & Lago Azul.  The scenery is breathtaking and as you jet up the river you see trout darting about everywhere in the clear, cold water.  Once in the lake you notice large beetles floating on the surface and the occasional trout sucking them in.  You cast your size 4 foam imitation towards log jams & rocky ledges to see browns come from 25 feet away to engulf your fly.  Magic!  On the way back down the river you cast big dries and streamers to good sized browns from 16-22".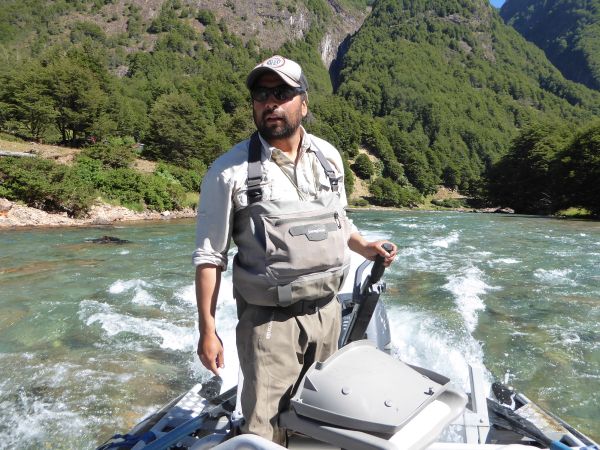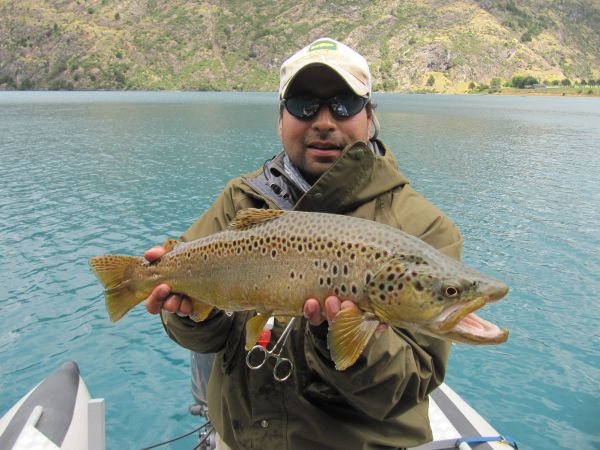 Day Four: We can't seem to get enough of the Paloma so today you float the lower section into Lago Claro.  The river is much broader here and the fish count less but there are some big fish tucked in under the willows and in the many log jams.  They will come out to hammer a big streamer or large attractor dry fly.  Time permitting, you might also fish the lake around the weed margins for cruising rainbows and browns that are often visable.  After fishing we depart for Estancia del Zorro for another great dinner in an isolated setting.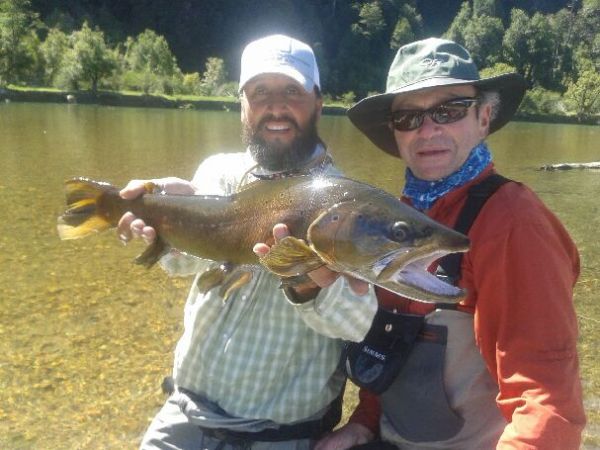 Day Five: You wake up & look ouside to a completely different view.  The estancia is private and the walk / wade fishing options varied.  Today you will fish the spring creek which is a couple stones throw away from your room.  This creek can be technical but the fish huge, especaily given the size of the stream.  If smaller beetles and hoppers do not do the trick a wooley bugger in some of the deeper holes just deadly.  There are chance for catching an 8 pound trout! Lunch is served back at the lodge and a seista tempting.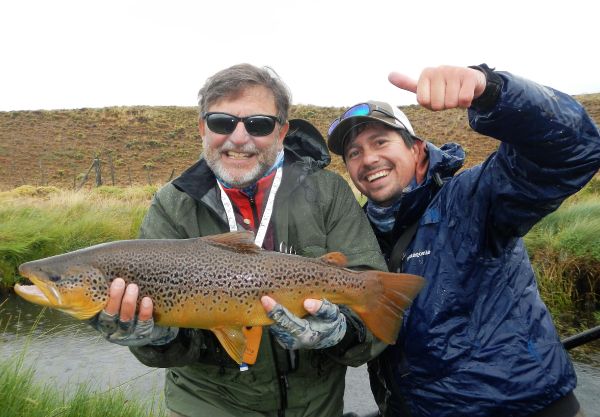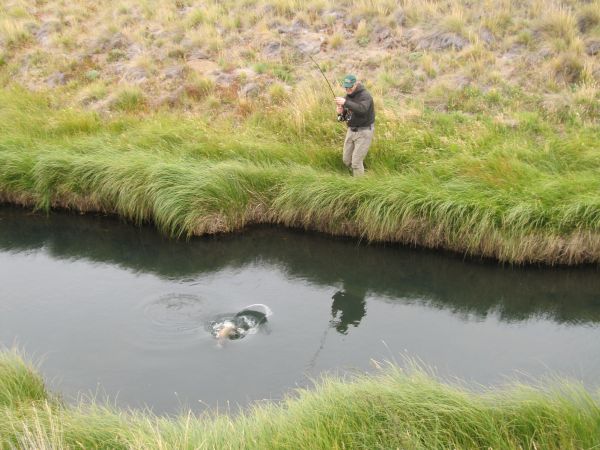 Day six:  You are off to fish what was once called, "The best brown trout stream in the world."  The Nirehuao is famous for its hopper fishing for good reason.  As you walk to the river hoppers are jumping and flying about everywhere and the trout taking them aggresively.  Cinco Rios has several land owner agreements which give them easy, exclusive access to several miles of this productive stream.  You may have to go through a few locked gates but it is well worth the effort.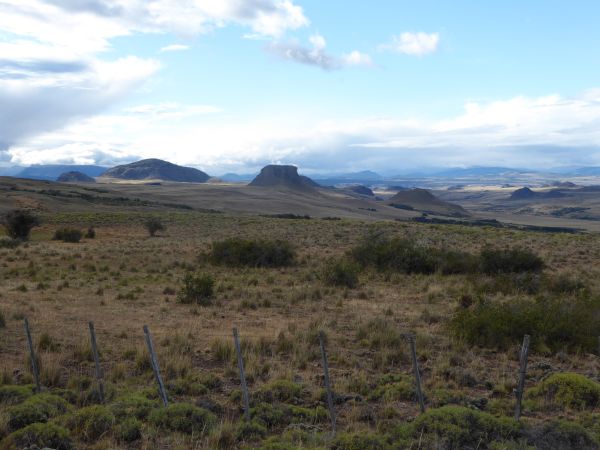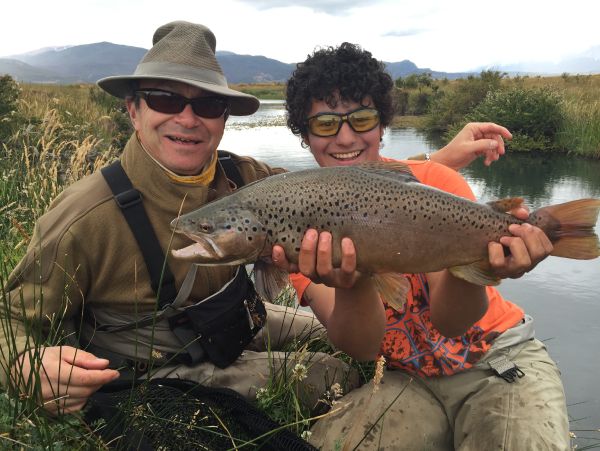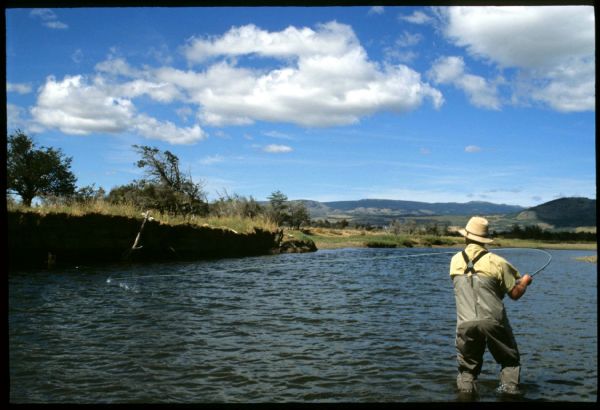 Day Seven: This is your 6th and final fishing day.  You might fish a smaller freestone  close to the lodge and catch lots of smaller fish from 8-17" on dries or fish another section of the Nirehuao.  Maybe the spring creek by the lodge for a trophy trout over 5 pounds or float a secret lagoon for big trout.  All good choices but instead you take your passport and cross into Argentina which is just 10 min. away.  Here there are two private streams that only Cinco Rios guests can fish.  One is loaded with smaller fish that take a dry fly on every cast and another with big bows from 16-24 inches.  Maybe you fish both.  After fishing we will celebrate the week with an adado of lamb back at the estancia.
Day Eight: A depressing day indeed.  Today you pack and drive back to Balmaceda airport for the trip back home but most likely you are filled with enthusiasm as you start to make plans for next years trip to Patagonia :-)